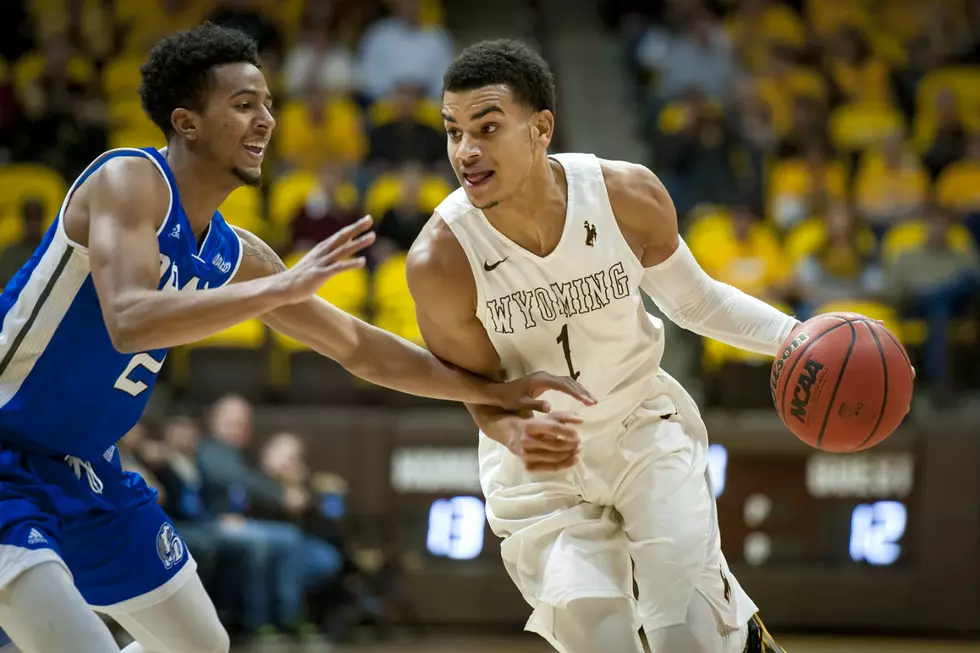 Cowboy Basketball Schedule Revealed for 2018-19
Courtesy: Univ. of Wyoming Athletics Media Relations
The first visit by an SEC school to Laramie since 2002 highlights the new Wyoming Cowboys men's basketball schedule unveiled Monday.
The Pokes will play 16 games at home with seven in the non-conference and nine Mountain West games. One of those is against South Carolina on Wednesday, Dec. 5. The Gamecocks are first Southeastern Conference School to play at the AA in Laramie since they last visited Dec. 19, 2002. UW won that game 77-63.
Wyoming begins its season at home Tuesday, Nov. 6 versus UC Santa Barbara. Grambling (Nov. 14) and Niagara (Nov. 16) will also come to Laramie in the first month. December home games include visits from Northern Colorado (Dec. 1) and Denver (Dec. 11), plus Dixie State (Dec. 29) in the final non-league game.
On the road, the Cowboys will visit Oregon State for a second straight year Nov. 10. There's the previously announced MW-Missouri Valley Challenge game at Evansville and the Sun Bowl Invitational in El Paso, TX. UW will also play in a tournament Thanksgiving week with opponents, dates, times and location to be announced at a later time.
Mountain West games begin Jan. 2 at home against Boise State and will conclude at home March 9 versus New Mexico. The Pokes will play every league team home and away with the exception of Nevada and San Diego State. Wyoming will host Nevada (Elite 8 in 2018) Saturday, Feb. 16 in Laramie for their only meeting of the regular season. The Cowboys will also play the Aztecs once, it will be Jan. 9 in California. Another note about the MW schedule is both "Border War" games will be on Saturday's in February. The home date is Feb. 9, while the road game is Feb. 23.
UW's two byes in their conference slate are Wednesday, Jan. 16 and Saturday, Feb. 2.
The Mountain West Championships will be March 13-16 at the Thomas & Mack Center in Las Vegas.
Any games on television, national or regional, are anticipated to be released in August. Game times will be set once those selections are made.
More From AM 1400 The Cowboy